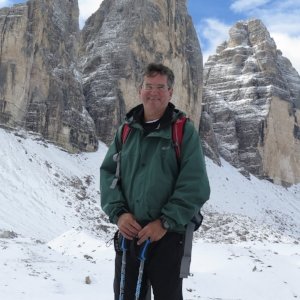 Franco Burlando
Founder and lead guide, Walk the Dolomites
I am proud to be the lead guide of Walk the Dolomites premium hikes. The Dolomites are my place of birth and backyard for decades. My memories as a young boy are filled with day trips in the mountains surrounding Belluno and further north towards Cortina d'Ampezzo, Agordo, Zoldo and Auronzo. My uncle and grandfather taught me the silent language of the mountains, where words cannot convey the beauty of the alpine valleys and meadows, the majesty of the surrounding peaks.
I founded Walk the Dolomites in 2012, and since then it has been a wonderful experience sharing these magnificent mountains with a host of excited hikers from all over the world. Check out what they have to say.
There is no doubt that the Dolomites have become a major tourist hot-spot especially in these past few years. Unlike my first guided hike back in June 2012, many trails are now very busy and have lost much of the appeal of coming here in the first place. Hotels and rifugi are often crowded and hard to get a reservation. This makes our premium Dolomites hike the more compelling if you are looking for a relaxed and off-the-beaten path hike in these beautiful mountains. We will take care of everything from the moment we pick you up in Venice in our all-inclusive hiking tour. If you have any questions contact me through our contact page, or drop me a note at franco@walkthedolomites.com
I am a certified ESA (Suisse) hiking guide.