Day 1 – San Vito di Cadore
Our premium 9-day Dolomites hike starts in Marco Polo airport in Venice with our pick-up service. We then drive up to San Vito di Cadore 3,000′ (993m) at the foot of Monte Antelao. Enjoy a leisurely stroll in town or cycle along the scenic bike path of the Dolomites! Be sure to bring your bathing suit for a dip in the indoor heated pool or go to the hotel's SPA while enjoying an unsurpassed view of the north face of Monte Pelmo (3,168m).
A welcome aperitif and a brief presentation will be followed by dinner.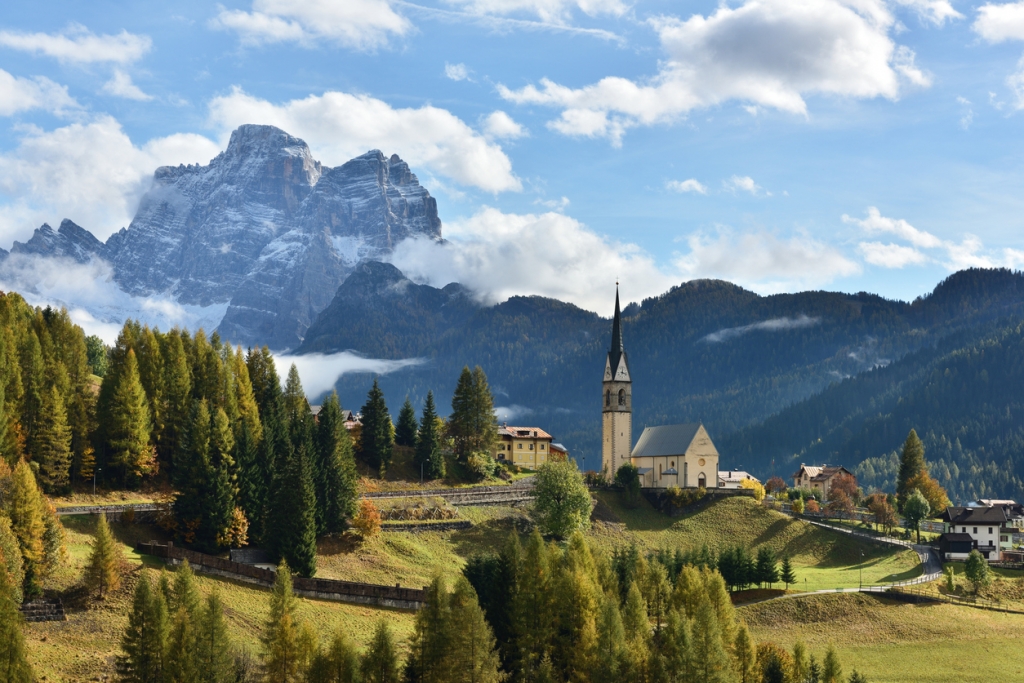 Day 2 – Tre Cime di Lavaredo
HIKING TIME: 6 HOURS • VERTICAL HEIGHT: 1,800'(600m).
The Tre Cime di Lavaredo are the iconic symbol of the Dolomites! We trail past Rifugio Auronzo 6,960′ (2,340m) and Rifugio Lavaredo, crossing moraines of bygone glaciers. We crest at Pian de Cengia 7,884′ (2,628m) which overlooks a vast range of peaks sedimented in the late Triassic period—over 220 million years ago. A few but the most tenacious plants grow here, like the beautiful alpine poppy (Papaver rhaeticum) with its bright yellow flowers.
Day 3 – 5 Torri
HIKING TIME: 5 HOURS • VERTICAL HEIGHT: 1,200'(400m).
The 5 Torri peaks 7,000' (2.361m) emerge majestically from the vast surrounding lush alpine meadows. The view of the Cortina d'Ampezzo village and its valley from this vantage point is simply spectacular. Multiple trenches dot the area, a reminiscence of the Italian defense lines during the Great War. Before we head back, let's enjoy a great cappuccino in one of the rifugi. This is also a botanical hotspot with myriads of flower species, many of which endemic to the area.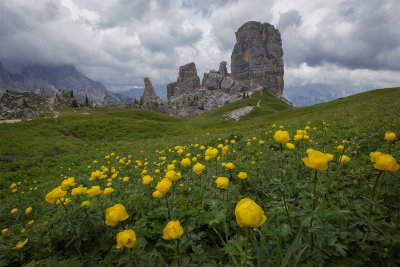 Day 4 – Forcella Lerosa
HIKING TIME: 5 HOURS • VERTICAL HEIGHT: 1,200'(400m).
The high point for the day is Forcella Lerosa 6,060′(2,020m). Here a derelict cemetery reminds us that it was a battlefield during World War I. The Croda Rossa 9,438′(3,146m) towers over a Jurassic period ocean bed 190 million years ago. The valley is populated with century-old pines (Pinus cembra), some of which are said to be over 800 years old! From here we head out to our first rifugio, where we will spend the following two nights. It is family owned and run and the food exquisitely local!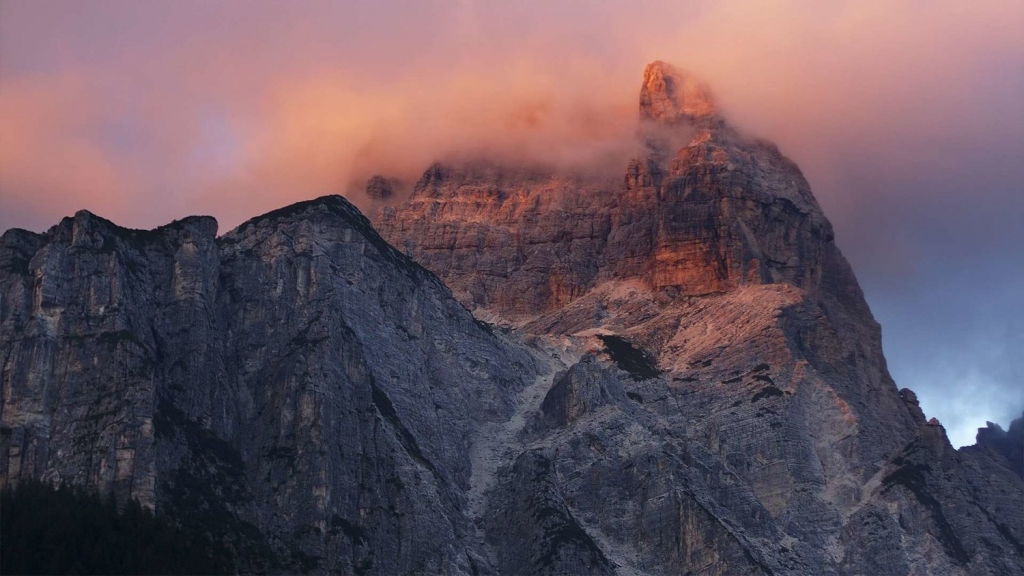 Day 5 – Senes
HIKING TIME: 4 HOURS • VERTICAL HEIGHT: 900'(300m).
Welcome to the magic kingdom of Senes! This valley is rich in century-old traditions and have sparked the imagination of many artists. The vegetation is thick and lush, spruce (Picea abies) alternates with silver fir (Abies alba). The towering peaks are all around us. The trek takes us first to Rifugio Senes 6,348' (2,134m) and then onwards to Rifugio Biella and lake Foses at 6,400' (2,160m). As all Dolomitic lakes, the color varies from emerald green to sky blue depending on the time of day and the cloud cover, an amazing sight!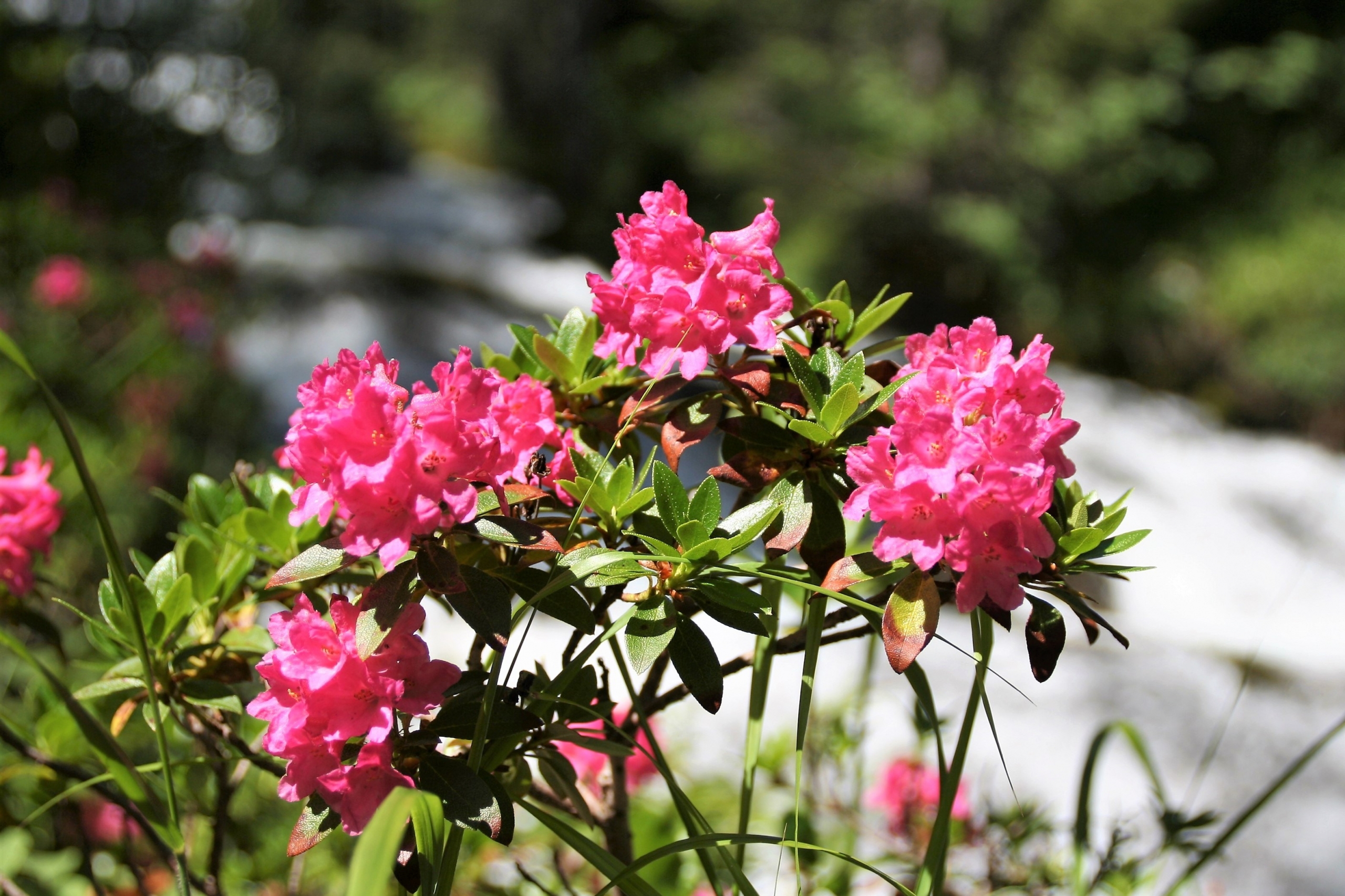 Day 6 – Fanes
HIKING TIME: 4 HOURS • VERTICAL HEIGHT: 1500'(500 m).
From one valley to the next, from Senes to the Fanes. This is a great place to admire the geological structure of the Dolomites, Sass de la Crusc a textbook example of how the rock was twisted and turned over the course of millions of years. 150-200 million years ago it was a seabed and subsequently forced up 9,000′ (3,000m) by plate tectonics. Fanes is an adjoining valley to Senes and together they form a Nature Park. We initially descent to Pederu', followed by a gentle climb to our final destination.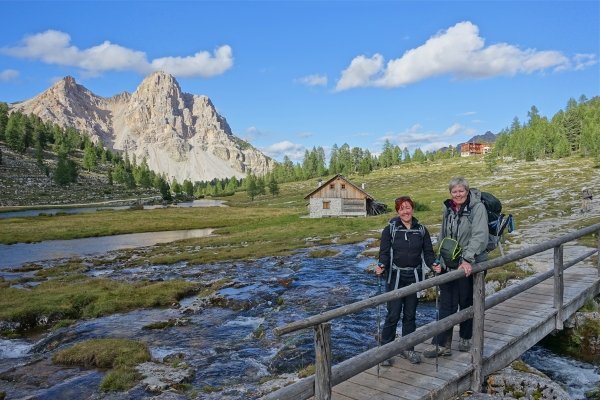 Day 7 – Lagazuoi
HIKING TIME: 6 HOURS • VERTICAL HEIGHT: 3,000'(1,000m).
Our hike starts with a gentle climb to lake Limo 6,480'(2159m) where fossils abound in the adjacent rocks. What a sight! The landscape around us is rugged and inspiring, nature unshackled. Two hours into our hike we start the climb towards Forcella de Lech 7,449'(2,483m). The trail zigzags steeply into the valley below in a sharp dive. Once we reach the bottom at the small alpine lake Legacio' 6,549'(2,183m) we traverse and then climb back up to Lagazuoi 8,256'(2,752m), best known for its sunsets enjoyed by the thousands via webcam. A cable car will whisk us down to passo Falzarego. We will spend the next two nights at a warm and hospitable bed-and-breakfast in the Zoldo valley, a memorable place – guaranteed!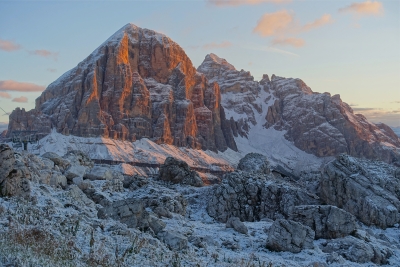 Day 8 & 9 – Pelmo
HIKING TIME: 4 HOURS • VERTICAL HEIGHT: 1.200'(400m). The trail head is at forcella Staulanza, and our first stop is at Rifugio Citta' di Fiume 5,754′ (1,918m). The sound of rolling rock avalanches can be occasionally heard as gravity brings down loose debris from Mt. Pelmo. The Dolomites adventure continues as we climb to the very top of Col de la Puina 6,672'(2,254m). From this vantage point we have an unsurpassed view of Mt. Pelmo 9,510′ (3,168m).
The following day we drive back to the drop-off point at the airport. If this feels like the hike of a lifetime make sure to contact us for more details!